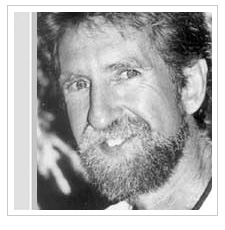 Awards
London's books have won about a dozen IRA/CBC Children's Choice Awards, plus numerous awards and honors from Parent's Choice, the American Library Association, the National Council of Science Teachers, Child Magazine, Smithsonian, Time, People Magazine, the ABC Award from the American Booksellers Association and more. Many of his books have been the Book of the Month Club feature selections or Junior Library Guild selections, and two have been Reading Rainbow books (Hip Cat was featured on PBS).
Bibliography
Jonathan London has published more that 80 picture books. Desolation Canyon was his first serial novel; Bella Bella is his second novel for Breakfast Serials. Besides the sixteen popular Froggy books (including Froggy Gets Dressed and the New York Times bestsellers, Froggy Eats Out and Froggy Goes to the Doctor), London is the author of The Eyes of Gray Wolf; Honey Paw and Lightfoot, Fire Race, Hip Cat, Baby Whale's Journey, and, most recently Sled Dogs Run, as well as many other books for children.
Jonathan London
"I'm tickled about my experience with Desolation Canyon, because Breakfast Serials has brought this story to the attention of thousands of adults as well as the kids who, until now, have been my main audience. Breakfast Serials provides good reading for all ages."
Biography
Born a "Navy brat" in Brooklyn, New York, Jonathan London was raised on Naval stations throughout the U.S. and Puerto Rico. Today he lives with his wife, Maureen, and their two sons, Aaron and Sean, in Northern California.
Jonathan London started writing poetry in his late teens. Although he received a Masters Degree in Social Sciences and never formally studied literature or creative writing, he began to consider himself a "writer" about the time he graduated from college. After college he became a dancer in a modern dance company, traveled around the world and worked at numerous low-paying jobs as a laborer or counselor.
However, during this twenty-year period, London continued to write. He wrote poems and short stories for adults, earning next to nothing despite being published in many literary magazines. "It wasn't until I had kids of my own that I became a writer for children," he explains. "It all started with telling them stories when they were very young. Now I am making a living as a writer. A dream come true!" In addition to writing stories such as Desolation Canyon, London is the author of over 70 picture books, including the popular Froggy series.
Serials
Bella Bella is an evocative sea-kayaking adventure set in the beautiful—but potentially dangerous—wilderness off the central coast of British Columbia.
Spanish translation available.
Desolation Canyon is a story about kids and their dads learning about the world, themselves, and the meaning of father and sons, fathers and daughters.
Then too, it is an old-fashioned adventure yarn, full of suspense and sought after danger. But it is not a tale of man against nature, rather, a joining of the two, that enriches characters in the story and the people who will read it.
Spanish translation available.