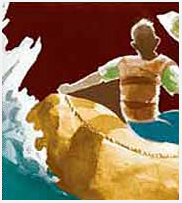 Sample Chapters
Desolation Canyon
Written by Jonathan London
Illustrated by Maile Pickett
Twelve-year-old Aaron and his father, along with Lisa and her father (Roger), and Willie and his fourteen-year-old son Cassidy, set off on a white-water rafting adventure down the Green River, Utah. They intend to pass through Desolation Canyon, famous for its difficult rapids. While the dads have considerable river experience, Aaron has much to learn. As for young Cassidy, though he has had some experience with rafting there is much wildness in him. Worse, his practical jokes and bad attitude are enough to make a hard trip that much more difficult. This difficulty comes to a boil in tensions between Aaron's dad and Cassidy. Matters turn critical when a raft is found floating empty with both he and Cassidy missing. Has Cassidy turned to violence on the violent river? And even if there has been no violence, will the expedition ever get to safety? After all, Desolation Canyon is a place that long ago earned its name.

Spanish translation available.
Stats
Logo art and 16 original chapter illustrations in color and black and white
Teacher's guides are available via the independent efforts of many. Please request a list from us.