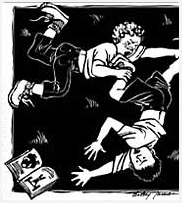 Sample Chapters
The Best in the World
Written by Marc Talbert
Illustrated by Betsy James
Ever since Nick got hold of The Guinness Book of Records, he's been obsessed with notions of being the best at something. That's why he and his bet friend Clay, concoct a scheme to establish a world record of their own. Their idea is focused on making money, a lot of money. They have two plans: selling jokes and looking as if they were poor so as to beg for coins. As it turns out, their plans go awry when their own self-centered goals turn into a much-praised plan to raise funds to help homeless people. While it doesn't make them rich, it makes them—momentarily—famous and much better people.

Spanish translation available.
Stats
Logo art and 6 original chapter illustrations in color and black and white
Teacher's guides are available via the independent efforts of many. Please request a list from us.