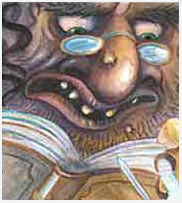 Sample Chapters
Chapter 1
Chapter 2
Chapter 3
Chapter 1 - Spanish
Chapter 2 - Spanish

Janko and the Giant: A Tale of Old Slovakia
Written by Joseph Bruchac
Illustrated by Anna Vojtech
Will Janko defeat the giant?
Bored with his small hometown of Dedina, Janko sets out to see the world—and is confronted by Velky, a not-so-nice giant who steals Janko's sword and his mule. Determined to destroy this mammoth pest, Janko launches on unforeseen adventures as he deals with talking horses, wizards, bandits, castles, and just plain fun. Written in the tradition of such favorites as Puss in Boots and Jack in the Beanstalk and set in old-world Slovakia, this eight-chapter fanciful folktale is perfect for summer reading—or for anytime.


Spanish translation available.
Stats
Logo art and 8 original chapter illustrations in color and black and white
Teacher's guides are available via the independent efforts of many. Please request a list from us.