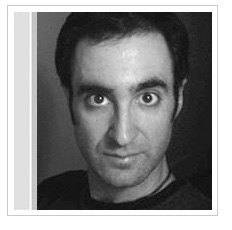 Bibliography
Ferocious Girls, Steamroller Boys and Other Poems In Between
Benjamin McFadden and the Robot Babysitter
James In the House of Aunt Prudence
Three At Sea
Grunt! The Primitive Cave Boy
Bach's Big Adventure
Math Man
The Christmas Cricket
Wanna Buy An Alien?
Dad's Job
Tim Bush
"It's exciting to be participating in the renewal of a classic narrative form. This is a great way to tell stories."
Biography
Timothy Bush has written and illustrated five books for young readers and has illustrated several books written by others, including Eve Bunting and James Howe.
His publishing career began when he entered a "Tell-us-what-you-like-about-our-product" contest sponsored by a French paintbrush manufacturer. He was hoping for the free paintbrush they were sending to everyone who entered, but accidentally won first prize: a free trip to Paris. While he was there, the Berlin Wall happened to come down, so he traveled to Berlin to see it.
His work has won the following distinctions: International Reading Association Honor Book (James In the House of Aunt Prudence, 1993), Center for Children's Books Best Books of 1999 (Bach's Big Adventure, 1999, text by Sallie Ketcham), CBC/IRA Children's Choice (Math Man, 2001, text by Teri Daniels). His work has frequently been offered through Children's Book-of-the-Month Club.
His stage adaptation of his 1995 book Grunt! The Primitive Cave Boy was produced by the Tony Award-winning Denver Center Theatre Company.
Timothy was born in Pittsburgh, Pennsylvania and attended the University of Dallas on academic scholarship. He spent two years as a Fulbright Teaching Assistant in Vienna Austria, and also lived for a time in the Greek Islands. He currently resides in New York City.
Serials
When a group of non-athletic boys are required to play on a South Orange River Middle School Soccer team, they achieve fame. They become famous, however, not because of the quality of their play, but by the hilarious ways they lose. By so doing they give new meaning to the term, SOR LOSERS.
Philip and Amanda are twin raccoons—but different by nature. Philip is cautious, while Amanda is always in trouble. When Amanda joins up with a human thief, Philip goes into rescue mode. Can he save her this time?
Spanish translation available.