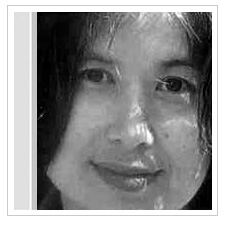 Hui Hui Su-Kennedy
Biography
Hui Hui Su-Kennedy has been enchanted by the story of The Monkey King and the lessons she learned since she first heard it growing up in Taiwan. The second of five sisters, she was encouraged to pursue her artistic talents in school by her first grade teacher. Growing up, she enjoyed drawing Chinese opera characters and designing their costumes. She moved to Alamogordo, New Mexico as a teenager. Ms. Su-Kennedy studied at the Art Institute of Fort Lauderdale, Florida and State University of New York at Stony Brook. She has worked for a number of years as a designer and illustrator in New York City and has exhibited her paintings in Long Island, New York. Her work has appeared in the New York Times. This is her first illustrated children's story. Hui Hui is excited to work on a story so important to her native culture, which has allowed her to combine her period research with her own creative version of The Monkey King. Ms. Su-Kennedy currently resides in Brooklyn, N.Y. with her husband, David.
Serials
Ji-li's The Monkey King is a partial retelling of one of China's favorite classics, Journey to the West—a novel of the Ming Dynasty by We Ch'eng-en.
Monkey is the most famous comic creation in Chinese fiction. It has been said, Monkey is mankind—full of faults, ambitious and vain. But he is also generous, valiant and intrepid. He is mischievous but also delightful. He can not resist challenge; he loathes self-pity and above all, he despises despair. The Monkey King is all this in seventeen chapters.
Spanish translation available.