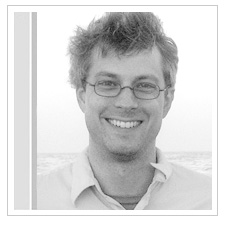 Brian Floca
"I've always loved newspapers, and growing up in Temple, Texas I illustrated for my (now defunct) high school paper, the THS Rambler, and in college I cartooned for The Brown Daily Herald. Those feelings and memories make it a real pleasure to write and draw again for newspaper publication, and this time for readers other than just my classmates."
Biography
Brian Floca is the author and illustrator of six picture books: Moonshot, The Racecar Alphabet, Lightship, Dinosaurs At The Ends Of The Earth, Five Trucks, The Frightful Story of Harry Walfish, and Breakfast Serials' Up in the Air: The Story of the Wright Brothers. Among the novels he has illustrated are Poppy (a winner of the Boston globe/Horn Book Award), Poppy & Rye, Ragweed, Ereth's Birthday, a graphic novel entitled City Of Light, City of Dark, Marty McQuire and Breakfast Serials' The Secret School. A native of Texas, Brian Floca currently lives in New York City.
Serials
Up in the Air: The Story of the Wright Brothers
Up in the Air: The Story of the Wright Brothers is historical fiction based on the story of Wilbur and Orville Wright's invention of the airplane. The story brings immediacy and life to the actual events, methods, and ideas of the Wright brothers' story.
Spanish translation available.
1920's rural Colorado. When the regular teacher of the valley's one-room schoolhouse must leave, bringing an early school closing, the children decide to take over, secretly. But there are many problems to surmount: trouble-making Herbert Bixler, a suspicious School Board, plus the fact that the new teacher, Ida Bidson, is not only one of the students but only fourteen years old!
Spanish translation available.