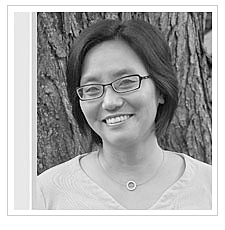 Awards
2002 Newbery Medal for A SINGLE SHARD
2005 Chicago Tribune Young Adult Fiction Prize for PROJECT MULBERRY
2003 Jane Addams Peace Prize Honor Award for WHEN MY NAME WAS KEOKO
2008 The Lion and the Unicorn Prize for Excellence in North American Poetry for TAP DANCING ON THE ROOF
Bibliography
Novels:

Keeping Score
Click (collaboration with nine other authors)
Archer's Quest
Project Mulberry
When My Name Was Keoko
A Single Shard
The Kite Fighters
Seesaw Girl
Picture Books:

Yum! Yum!
Bee-Bim Bop!
What Does Bunny See?
The Firekeeper's Son
Mung-Mung!
Poetry:

Tap Dancing on the Roof
Linda Sue Park
"I am so excited about having A LONG WALK TO WATER published by Breakfast Serials. I want readers of all ages to learn about Salva Dut's remarkable life, and Breakfast Serials is the perfect medium for reaching a diverse audience--adults, young people, families, and schools."
Biography
Linda Sue Park was born in Urbana, Illinois, on March 25, 1960, and grew up outside Chicago. The daughter of Korean immigrants, she has been writing poems and stories since she was four years old; her favorite thing to do as a child was to read.
This is the first piece she ever published—a haiku in a children's magazine when she was nine years old:
In the green forest
A sparkling, bright blue pond hides.
And animals drink.
(Trailblazer magazine, Winter 1969)

For this poem, she was paid one whole dollar. She gave the check to her dad for Christmas. About a year later the company wrote to her asking her to cash the check! Linda Sue wrote back explaining that it was now framed and hung above her dad's desk, and was it okay if he kept it? The magazine said it was fine, and her dad still has that check.
During elementary school and high school, Linda Sue had several more poems published in magazines for children and young people. She went to Stanford University, competed for the gymnastics team, and graduated with a degree in English. Then she took a job as a public-relations writer for a major oil company. This was not exactly the kind of writing she wanted to do, but it did teach her to present her work professionally and that an interested writer can make any subject fascinating (well, almost any subject . . .).
In 1983, after two years with the oil company, Linda Sue left her job and moved to Dublin when a handsome Irishman swept her off her feet. She studied literature, moved to London, worked for an advertising agency, married that Irishman, had a baby, taught English as a Second Language to college students, worked as a food journalist, and had another baby. It was a busy time, and she never even thought about writing children's books.
In 1990 she and her family moved back to the U.S. because of her husband's job. Linda Sue continued teaching English to foreign students. It took her quite a while, but she finally realized that what she really wanted to do was to write books for children. In 1997 she started writing her first book, Seesaw Girl. It was accepted that same year and published in 1999.
The Kite Fighters came out in 2000. This book was especially exciting because the chapter-heading illustrations were done by Linda Sue's dad.
A Single Shard was published in March 2001 and was awarded the 2002 Newbery Medal. Since then, Linda Sue has published several other novels, as well as picture books, poems, and short stories.
Linda Sue now lives in upstate New York with the Irishman, their two children, and a dog. The dog is a Border Terrier named Fergus. Besides reading and writing, Linda Sue likes to cook, travel, watch movies, and do the New York Times crossword puzzles (daily and Sunday). She enjoys baseball and soccer (watching), board games (playing—Scrabble and trivia games are her favorites), and video games such as Tetris and Dr. Mario.
Serials
A Long Walk to Water is an original serial novel taken from today's headlines. Written for the Breakfast Serials audience by Linda Sue Park, author of many novels for young people (including the Newbery Award winner A Single Shard), A Long Walk to Water is based on the true story of Salva, one of some 3,800 Sudanese "Lost Boys" airlifted to the United States beginning in the mid 1990s.