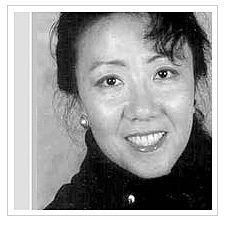 Ji-Li Jiang
"If there is one goal I'd like to achieve in my life it is to bridge the gap between China and the western countries. I strongly believe that a better understanding around the world is the bases of world peace."
Biography
Coming from Shanghai, China in 1984, where she used to be a school science teacher, author Ji-li Jiang studied in Hawaii then worked as a corporate Operations Analyst and Budgeting Director for several years. In 1992, she co-founded East West Exchange, Inc, a company created to promote and facilitate cultural and business exchanges between China and the western countries.
Ji-li's first book, Red Scarf Girl fulfilled a long cherished wish to tell her story about what happened to her, her family, her neighborhood, and to her school during the 1960's Cultural Revolution in China. Red Scarf Girl won an ALA 1998 Best Book for Young Adults award, ALA Notable Book award, was cited by Publishers Weekly 1997 as one of the Best Nonfiction Books for Children, as well as a Parenting magazine Magic Awards—1997 Most Wonderful Children's Books. To reach so many children with her own story has been very meaningful to Ms. Jiang.
Today, Ji-li lives in the San Francisco area. Besides writing, she devotes her time to various cultural exchange programs; organizing groups to study alternative medicine in China; bringing Chinese art troupes to perform in the States; sending students to summer camps in China to understand the Chinese culture, etc.
Serials
Ji-li's The Monkey King is a partial retelling of one of China's favorite classics, Journey to the West—a novel of the Ming Dynasty by We Ch'eng-en.
Monkey is the most famous comic creation in Chinese fiction. It has been said, Monkey is mankind—full of faults, ambitious and vain. But he is also generous, valiant and intrepid. He is mischievous but also delightful. He can not resist challenge; he loathes self-pity and above all, he despises despair. The Monkey King is all this in seventeen chapters.