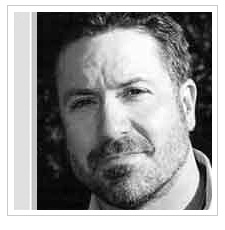 Award
Pushcart Nomination for Poetry (2002)
Lamplighter Award Nomination (2000)
Lee Bennett Hopkins/International Reading Association Promising Poet Award (2001)
New York Public Library Best Books for Teenage List (2000)
Pushcart Nomination for Poetry (1996)
Two Pushcart Nominations for Poetry (1995)
Norwich UniversityWriting Scholarship (1990-91)
Vermont College Merit Scholarship (1990-91)
Pen Women's Writing Scholarship (1989)
Winner in Poetry: Mile High Arts Festival (1987)
Faculty Scholar: Florida Atlantic University (1973-75)
Bibliography
No Guarantee. New Rivers Press, Minneapolis, MN. 2004
North of Everything. Candlewick Press, Boston, MA. 2004
The Shadow of My Father's Hand (in serial form). Breakfast Serials, Denver, CO. 2004
Amaryllis. Candlewick Press, Boston, MA. 2003
Moon Over Tennessee. Houghton Mifflin, Boston, MA. 1999
Craig Crist-Evans
"Since the advent of handwritten newsletters in the 13th century, newspapers have brought the story of the world to readers at every level of every society. Breakfast Serials in on the right track. To become a part of this grand tradition by bringing to millions of readers The Shadow of My Father's Hand, the sequel to Moon Over Tennessee, is like a dream come true. Somebody pinch me."
Biography
(March 4, 1954 - March 24, 2005)
Craig Crist-Evans received broad recognition for his writing—five Pushcart Nominations for poetry, two New York Public Library Best Books for the Teenage List honors, and the International Reading Association/Lee Bennett Hopkins Promising Poet Award for his first book, Moon Over Tennessee. His first novel, Amaryllis (Candlewick 2003) received a starred review in Kirkus. He published poetry, essays, reviews in numerous journals, including Artful Dodge, The Paris Review, The Nebraska Review, Cimmarron Review and The Prague Review. In August 2004, Candlewick Press published a novel-length narrative sequence of poems titled North of Everything. His first full collection of poems, NoGuarantee (New Rivers Press), was released in September 2004. Manthology: poems of the male experience, coedited with Roger Weingarten, has been accepted by the University of Iowa press and will be published in the winter of 2006.
From September 2001 until January 2005 Craig developed and directed the Writing Center and the Writing Across the Curriculum Program at Mercersburg Academy. Prior to Mercersburg, he co-developed, directed and taught in the MFA in Writing for Children program at Vermont College, the first program of its kind in the country. He also served as Poet in the Schools for Colorado 1992 to 1997, and taught an independent program entitled Global Awareness & the Writing Process in eight different school districts throughout Colorado. Finally, he served as a contributing editor for the Bloomsbury Review from 1990 until his death in 2005
Serials
The Shadow of My Father's Hand: A Boy's Civil War Journal
It's 1864 and the Civil War is still raging. This haunting personal war story, conveyed through a poignant narrative poem, is at once a story of family, of friendship, of the horrors of war—and of one boy's struggle to survive and grow up.