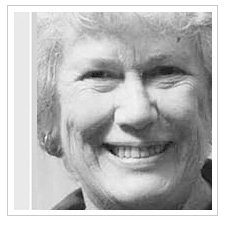 Awards
Mark Twain Award, Missouri - The Secret Life of the Underwear Champ

Georgia Children's Book Award - The Secret Life of the Underwear Champ
Bibliography
Betty has published over 30 books. Among her best known are:

The Secret Life of the Underwear Champ
Hey! I'm Reading!
The Sky is Falling!
The Tortoise and the Hare
Betty Miles
"I love to talk about what I'm reading, and so I like the way a Breakfast Serials story can get a whole town talking: kids and teachers and librarians and parents and grandparents and (it turns out) just about anyone who reads a chapter in the papaer and needs to talk about it with someone else. I like the way the stories bring readers together: a baby-sitter reading aloud at bedtime, an older sibling reading to a younger, a child talking about a chapter with her grandmother across town - or across thr country. It's easy to share a Breakfast Serials story - just open a newspaper, read, and talk!"
Biography
Betty Miles has written more than thirty books for children, including easy readers, picture books, non-fiction books and nine novels for pre-adolescent readers. Her book HEY! I'M READING! is the first book about reading, written for new readers and their families. Betty Miles was an editor of the innovative Bank Street Readers. She has taught kindergarten children, graduate students, and currently volunteers as a visiting author in fourth grade classrooms at PS 291. Bronx, NY. She speaks and leads workshops on reading and writing with children, parents, librarians, and teachers around the country. Betty Miles is a graduate of Antioch College. She taught children's literature at Bank Street College of Education. She lives in Rockland County, New York and has three grown children and two grandchildren.
Betty Miles has written "Note To Parents for The Army of Two." Newspapers may publish these insightful suggestions as a whole, or chose specific paragraphs to run with each installment.
Serials
A true story! Alone at the Scituate (Massachusetts) lighthouse, two girls save their town from British attack during the War of 1812.
Spanish translation available.